Egan Camp and Retreat Center
Egan Camp and Retreat Center is surrounded by the Ozark mountains; it is easy to feel God's presence and enjoy the beauty of God's creation.
Long before it was a retreat center, people camped here because of the richness of this area. Numerous fruit trees, nut trees, wild strawberries, and wild onions are common place. In the early 1900's it was a fishing camp. People would ride the train from Muskogee and get off when the train would stop to fill with water. They were free to fish all day until the train returned.
Today, Egan is a modern retreat center.
Great for:
Youth Groups
Sunday School Classes
Men's Groups
Women's Groups
Churches
Dance Groups
Schools
College's
Corporate Events
Camps
Your giving matter now more than ever! Covid-19 has impacted the camping industry tremendously. 
26633 Highway 62, Tahlequah, OK 74464
Lodging and Sleeping Arrangements
Enjoy Hotel style lodge rooms, each with a private bath. Large central meeting space. Kitchenette, Ice machine, and vending machine also provided for convenience.
Sleeps:64
Meeting Space Capacity: 300
Medical Station is perfect for camp Deans and Nurses, or a small group retreat! 4 private bedrooms with private bathrooms, and a private medical examination room, open to a large meeting space and full kitchen. Front porch is perfect for enjoying the fresh air. 
Sleeps: 8
Private three -bedroom family cabin with full kitchen. Sleeps 10
Newly remodeled two story cabin with single bunks and private bathrooms on each floor.
Sleeps: 10
Creekside, Love Circle, Lusk Lodge, McCoy and Fossil each provide bunk style lodging and common bathrooms for guests and campers.
Fossil: Sleeps 36
McCoy: Sleeps 36
Creekside: Sleeps 60
Lusk Lodge: Sleeps 30
Love Circle: Sleeps 110 
Meeting and Dining Arrangements
Holliman Medical Station
Kitchenette with Refrigerator and Coffee Maker
Surround Sound System
65″ Flat screen with VGA input
Meeting/Reception Space for 100
Lower Level—Kirby Dining Hall
Seating for 240. Full Menu of meals provided upon advance request for groups over 20 persons. A/V available upon request
Elevator Access
Upper and Lower Fireplaces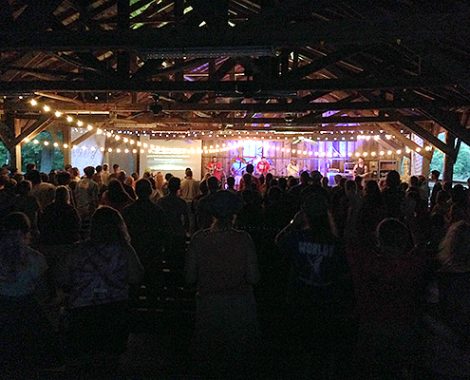 Bench and Chair Seating
Covered/Open-air space
Permanent Stage
A/V Available upon request
Seats 175
Ping Pong Tables
3 Private Breakout Rooms—Air Conditioned Only
Heat Only—Windows Open During Summer Months
Seats 120
Sofa seating for 13
Kitchenette
Fireplace
Partitions to create 5 separate spaces
Kitchenette with refrigerator and coffee maker
Built-in projector and sound system
Seats: Up to 300
Other Meeting Areas Include Creekside meeting rooms, Fossil Common area, and outdoor meeting areas
All Activities at Camp Egan
Hammockville
Swing Haven
Playground
Mud Pit
Low Ropes Course
Fire Pits
Fishing (poles not provided)
Hiking
Basketball
Volleyball
Sand Volleyball
Swimming Pool
Four Square
Horseshoes
Soccer
Kickball
Ping Pong
Kayaking